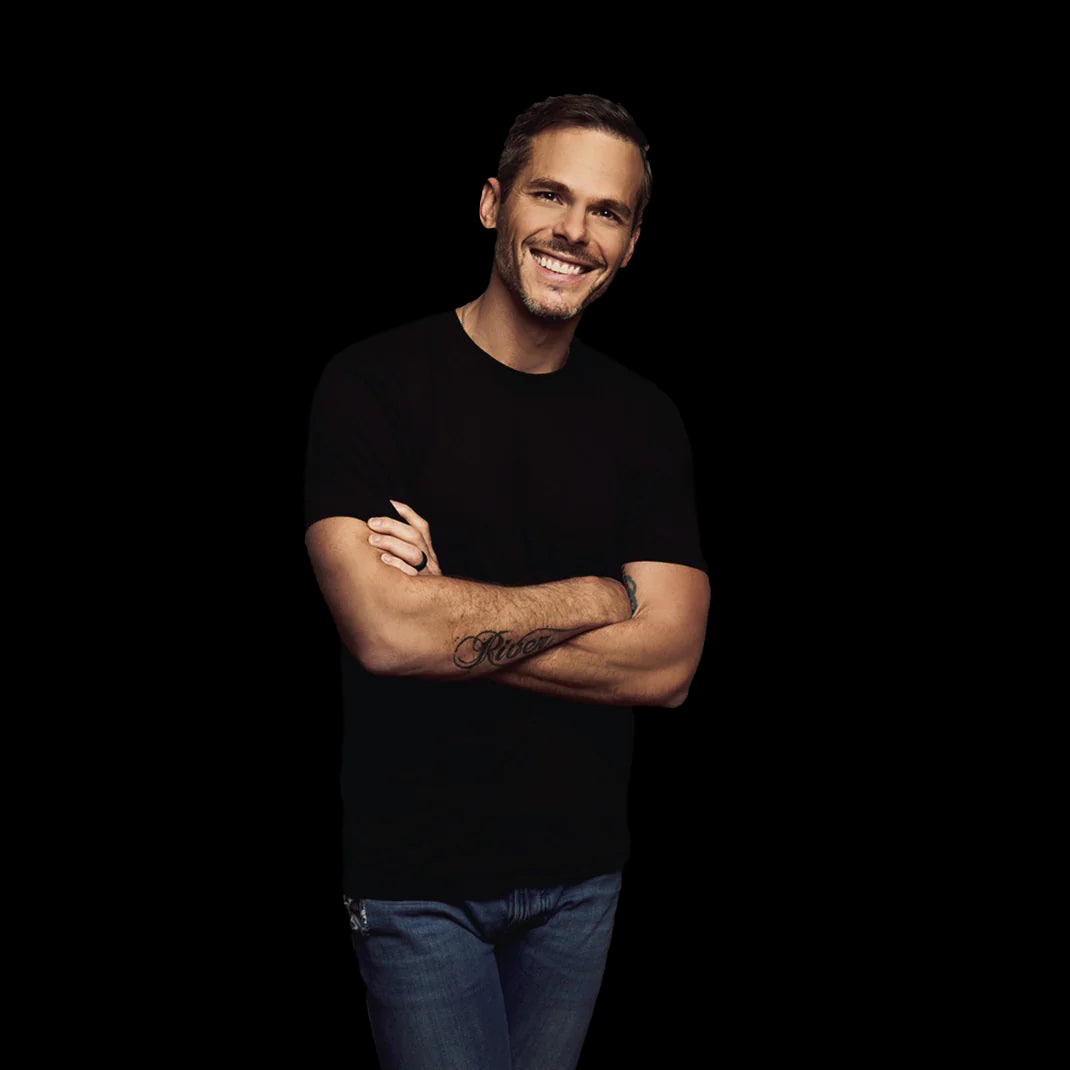 Meet Granger
Granger Smith is giving everything to God.
After 24 years touring as an award-winning, platinum-selling, country music singer-songwriter, Smith chose to leave the music business to pursue a future in ministry. The "Like A River" summer tour in 2023 will mark his last as he moves full throttle towards his faith. Honoring his late son, River, his first book Like a River: Finding the Faith and Strength to Move Forward After Loss and Heartache, will be released on August 1, 2023 (W Publishing Group, and imprint of Thomas Nelson).
Compelled by the call to ministry, Smith intends to serve his local church under the teaching, council and leadership of his pastor and elders while he continues work on a Master's degree at Southern Baptist Theological Seminary, along with public speaking and authorship.
Over the course of his groundbreaking music career, Granger amassed a massive and rabid audience known as Yee Yee Nation, built through heavy touring and grassroots fan engagement. He has released ten studio albums, one live album, and two EPs. Granger has charted over eight singles on the Billboard country charts, including the number one hit "Backroad Song." He is a highly sought-after speaker, actor, author, and host of the nationally syndicated iHeartRadio show After Midnite with Granger Smith. In 2017 he started the Granger Smith Podcast, where he discusses matters of faith, family, music, and the outdoors, while spreading messages of integrity, honor, truth, and restoration grounded in a Christian worldview.
Granger's social media following exceeds twelve million, with more than one billion online video views. Granger and his wife, Amber, live north of Austin, Texas, with their kids London, Lincoln, and Maverick.
Granger Smith didn't have acting aspirations when his WME booking agent sent him a movie script. He had never acted before, but he felt a deep connection to the title character: a country singer with three kids who loses his wife in a tragic accident and the struggle to find redemption with his family and music.
"I loved the script more than I loved the idea of me being an actor," said Granger, who read the treatment in one sitting on his front porch. "But I wanted to do my best to bring this guy to life. I am a lot of that guy and I felt a little of my dad in him, too. In the story he is a man of not so many words, but when he said something it mattered. I know people like that and I knew this was something creatively I wanted to tackle."
Attracted to the character – an under-pressure single dad and rancher – Granger asked to hear the songs in the "Moonrise" script especially the moving movie closer "Forever Forward." He was surprised to learn it didn't exist.
"The director said, 'There is no song yet, but we are going to find it.' And I said, 'Excuse me?' She said, 'Yeah, I have a title and the movie is based on it, but we haven't found it yet," Granger recalled. "What I was thinking to myself was what you are asking for is actually impossible, so I said, 'Why don't I try to write it."
Clearly having a songwriting country artist on set had its advantages but it wasn't something the movie executives considered when they were casting. "They thought it would be easier to get a country singer to act than it would be to get an actor to pretend to be a country singer because there were performances," Granger chuckled.  
Driven by personal experience, familial inspiration and a commitment to anyone who overcomes life's setbacks, Granger emersed himself in the character and started writing the music that would support the narrative and eventually become his next album Moonrise, which will be released Nov. 18 by BBR Music Group.
He wrote "Forever Forward" on New Year's Eve and had finished all 12 tracks by March 1, 2022.  He dipped into his catalog for nuggets that became fully conceptualized songs. Inspiration was everywhere.
"After I said yes and started diving into it, I had no idea I needed to actually become that character," Granger offered. "I had to think like him. Not just read the script and memorize it but believe it. I had to feel it and say it in a way that sounded like it was created from my soul. That took an emotional toll on me and an effort than I couldn't ever have imagined. There were days on set, I thought I was Will Brown."
Granger has released 10 studio albums, one live record and two EPs, but this record is a departure from anything he has done before. Each cut is present in the movie, but the songs are solidly Granger Smith.
"It's scary because you think in your insecure brain, 'Maybe I'm wrong about all of this,'" Granger said. "The one thing I do know is that when I started this project I thought, 'I'm going to make songs for Will Brown.' But as I was writing and recording and singing, I quickly realized you can't do anything that doesn't sound like Granger. I had to relent to that idea that I can't make anything that doesn't sound like me, but that's OK."
Mining a character in a three-minute song was very different from staying in character for the duration of a film. "I can get through a song in three minutes and feel that emotion lyrically with a song, but in three minutes I'm on to the next one if I am playing a show," he said. "And we take this roller coaster of happy, fun, sad, heartache, love and all back-to-back-to-back. But the movie was consistently one emotion."
Granger first broke onto the national scene with Remington, an album that scored his first No. 1
"Backroad Song." He was awarded a BMI Country Award for writing, producing, publishing and performing the song. It was one of the Top 10 Most Played Country singles of 2016 according to Mediabase and certified Platinum by the RIAA. He followed with a Top 5 hit "If The Boot Fits."
Granger said writing the music on his bus during the filming was easier than creating songs in a traditional Nashville writers' room.
"Between takes I'd have four or five hours on the bus, I had the guitar and I would think about the scene. I'm on set, dressed as the character and looking out the window at the guy's house. It wasn't that hard," Granger explained. "Imagine if Nashville songwriters were transported to the scene of the song they were writing. It would be so much easier."
His current favorite track on the record is "Damn Guitar," which had an inauspicious start.
"I had started that by myself a few years ago and it never had a home until I met this character," offered Granger. "I thought, 'This is his song' and it is really great when that happens. The song was sitting there collecting dust and didn't have a purpose and all along it was meant for him."
Granger was eventually named musical supervisor for the film collaborating with Hollywood composer John Coda on the score.
A multidimensional communicator, Smith has his hands in numerous projects including hosting iHeartRadio's After Midnite, his own podcast, and a popular weekly YouTube series with his family called "The Smiths." He created the documentary "They Were There: A Hero's Documentary" and wrote a No. 1 book, "If You're City, If You're Country." In 2020, he received the CMT Award for Quarantine Video of the Year and has an outdoor lifestyle brand Yee Yee Apparel.
Granger, who has banked more than 1 billion on-demand streams with more than 12 million followers on social media, will have to wait for Moonrise to come out in November and for the movie to be released by PureFlix on Dec. 15 to see how his fans will respond.
"My biggest fans, the ones that have followed me for years and been to 100 shows, what will those people think of me as this guy in a cowboy hat, a rough Texas rancher?" Granger pondered. "Are they going to believe it or think I should never act again."
He hopes what they experience with Moonrise and the movie is the power of music.
"There is something a song can say that human words can't in a conversation," he said. "The mystery of that we will never know on this earth, why that truly is and why we have the gift of music. But as creators of music, we need to understand that it doesn't come from us, we just pass it on and we have a big responsibility as musicians to channel it and realize how it effects people: it enhances their emotions, it makes them remember things they didn't think they could remember and forget things they don't want to think about. And we can do that three minutes at a time."