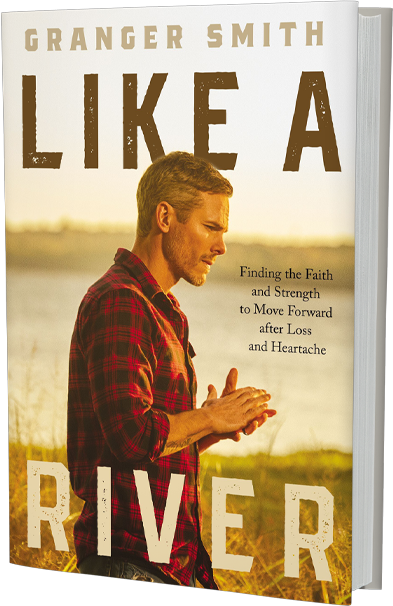 Now Available
Like A River, a triumphant story of new life birthed out of tragedy, will teach readers how to face their failures, confront their pain, and connect with God - the true source of life.
Order Now
About The Book
On June 4th, 2019, country music singer Granger Smith was enjoying a final evening with his kids before heading to Nashville for the CMT Music Awards and his next tour. While helping his daughter London with her gymnastics, his youngest son fell into their pool. Granger did everything he could to get to him, but he was too late. River drowned, and Granger's world shattered.
The days, weeks, and months that followed River's death sent Granger on a dark and painful journey. Every time he closed his eyes, he replayed the horrific event in his mind, and every time he opened his computer, he was bombarded by the critique and criticism of people who blamed him for the accident.
Despite his best effort to get back on stage with a smile and song, it was all a façade. On the inside he was dying. Fortunately, that's not how his story ended.
Alone on his tour bus, on the darkest night of his life, Granger had a spiritual encounter with Jesus that lifted him out of the muck and onto a new path. Granger's vulnerable testimony will lead you to the truth that:
God is the Source of everything that happens on your river of life and loss.
God has a purpose for your pain and His purpose is always good.
God has a plan for the path of your river, and once you surrender your useless oars and paddles, you can trust Him to heal your deepest pain.
God is never-failing on the other side of your surrender with the gifts of peace, hope, and love even in grief.
Rivers don't run on their own strength; they flow from their source. When we try to keep going on our own, we won't make it, but when we connect to the greater source, we will find the strength and the faith to keep living after loss.
Media
For U.S. press inquiries regardingLike A River, please contact Allison Carter at Allison.Carter@harpercollins.com
click above to watch the like a river book trailer
First Listen
Listen to Chapter 4 Now
Narrated by Granger!
Order Now
Available in print, eBook, and audio formats!